Detailed cattle management means intelligent decisions for your ranch
You dont need notebooks, spreadsheets, or hassle. Get your cattle records all in one place with RANCHr Premium and start saving money today.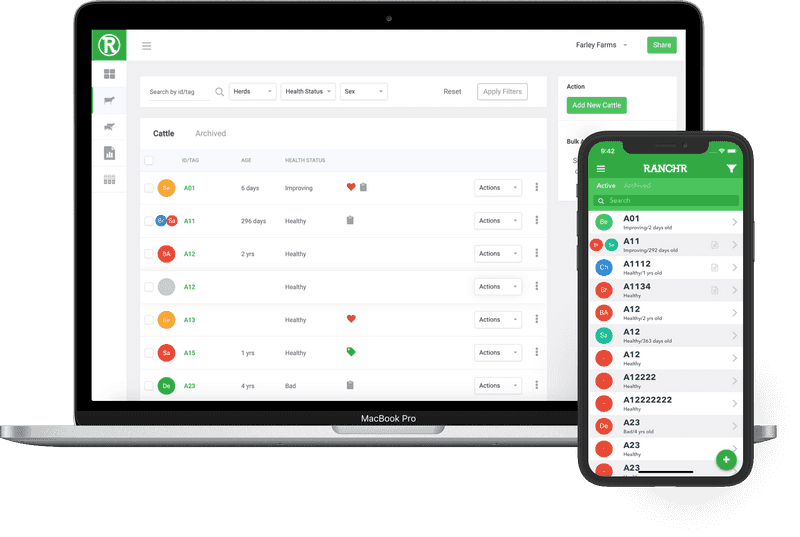 What you need, where you need it
Create detailed records by adding treatments, measurements, calves, health, pregnancies and more.

Simple organization and navigation
We designed RANCHr to make things easy. Transfer cattle from one group to another and add notes directly to each cows history. Find everything you need in the palm of your hand.

Unmatched customer service
With RANCHr, you get what you see--the best and most affordable cattle tracking system. We make updates based on customer feedback, and we offer support within 24 business hours of any inquiry.
Get more with Ranchr Premium.
Use anywhere... really

Offline mode means you never have to worry about taking your records with you. Add updates and view data everywhere you go. Plus, get access to our online software for greater capabilities from your home or office.

Bulk features help you do more faster

Dont waste time on single entries. Add or delete multiple treatments or pregnancy records to keep your files current.

Pregnancy tracking made simple

Input date of exposure to bull or AI, and our system will calculate the calving date with days to go. Include pregnancy checks and the final result for the most comprehensive records.
Download reports and add images

Generate reports for everything from pregnancies to sales with the click of a button. Add photos to show your cows progression.

List offspring and birth details

Include ID, age, dam, sire, and treatments. Keep calf information separate for easy viewing of all your calves.

Import cattle from outside sources

Get rid of multiple platforms by importing spreadsheets directly into the software. Move your cattle to new herds and delete old documents.
See more features and choose the plan thats right for you